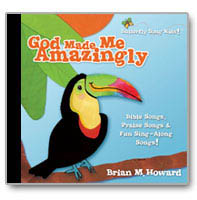 God Made Me Amazingly, is here! We can't wait to share it with you. 14 NEW songs from Gold Record award-winning songwriter, Brian Howard. The one who brought you "If I Were a Butterfly" and "I Just Wanna Be a Sheep.

Songs filled with God's Truth and Joy.

Our BEST CD ever, with the best songs! We can't wait for you to hear it. Visit our online store for more information on how to order.

We pray each and EVERY song on our new CD speaks to your heart, encourages you and fills you with God's joy. Listen Below. . .